Today is Christmas Eve and we have arrived in Luxor after a long journey from the UK. I managed to find a nice Sirius-sized Christmas tree on the desk at the hotel reception
Its Christmas Day today and we have had a nice lazy day around the hotel. This is me in the cocktail bar overlooking the River Nile. It was very nice to have a sociable drink and watch the sunset
We went into the centre of Luxor today and this picture has been taken from The Corniche which is the main road that runs alongside the River Nile. In the background you can see one of the many Nile cruise boats and also the mountains on the West Bank.
This is me in the Great Court at Luxor Temple.
The Ancient Egyptians decorated all of the walls and pillars with writing and pictures called hieroglyphics. This is a close up of some hieroglyphics in Luxor Temple.
This is me in the Sun Court at Luxor Temple. You can see an Egyptian man in the background wearing a typical everyday garment called a galabiya.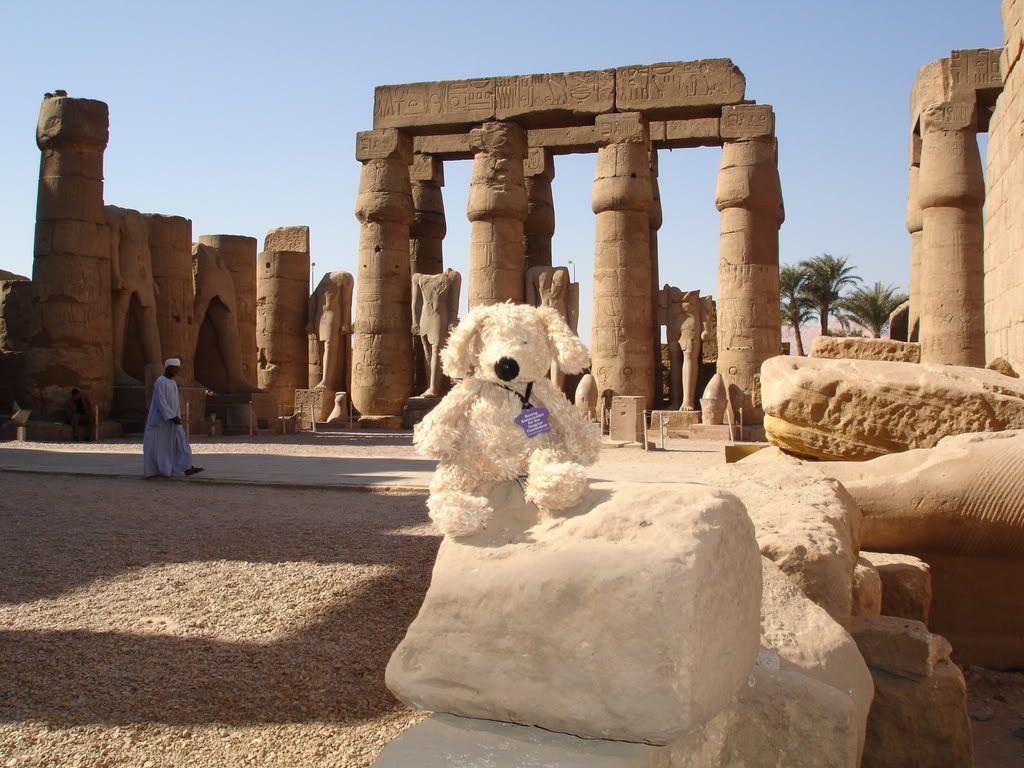 There are some big statues in the Great Court. Unfortunately one of these statues has had an accident and lost his head, oh dear!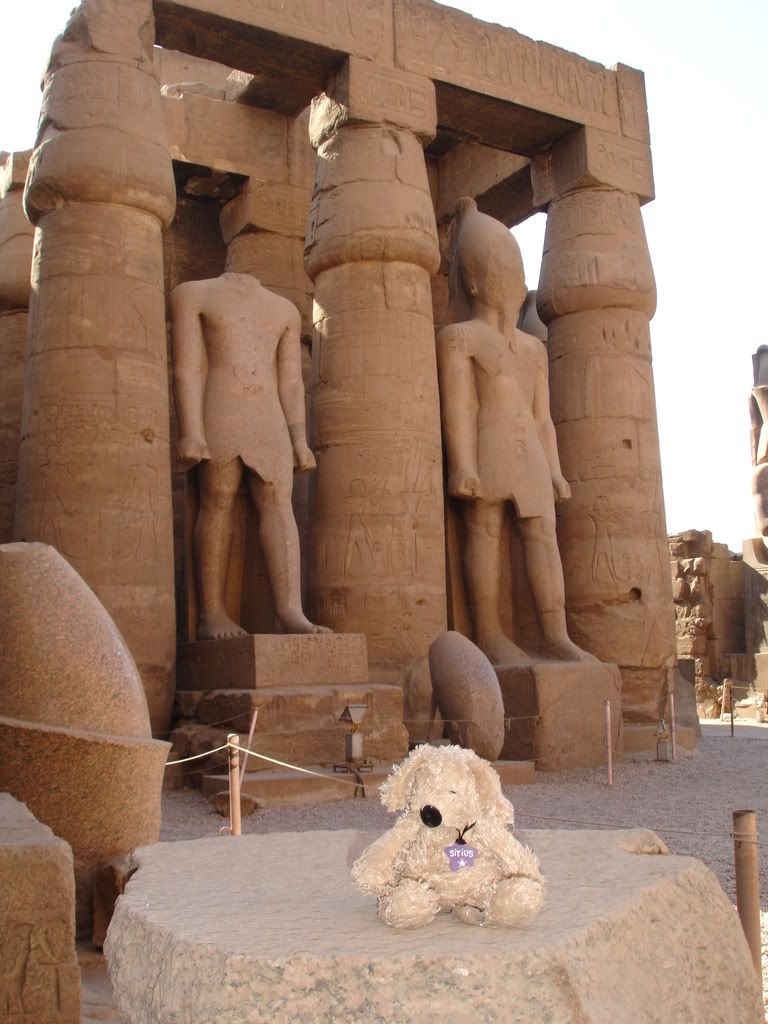 After visiting Luxor Temple we had a very nice trip on a motorboat back down the River Nile to our hotel.
Terri and Pete liked to sunbathe but I thought that was a bit boring so I decided to be adventurous and climb one of the trees outside our hotel room.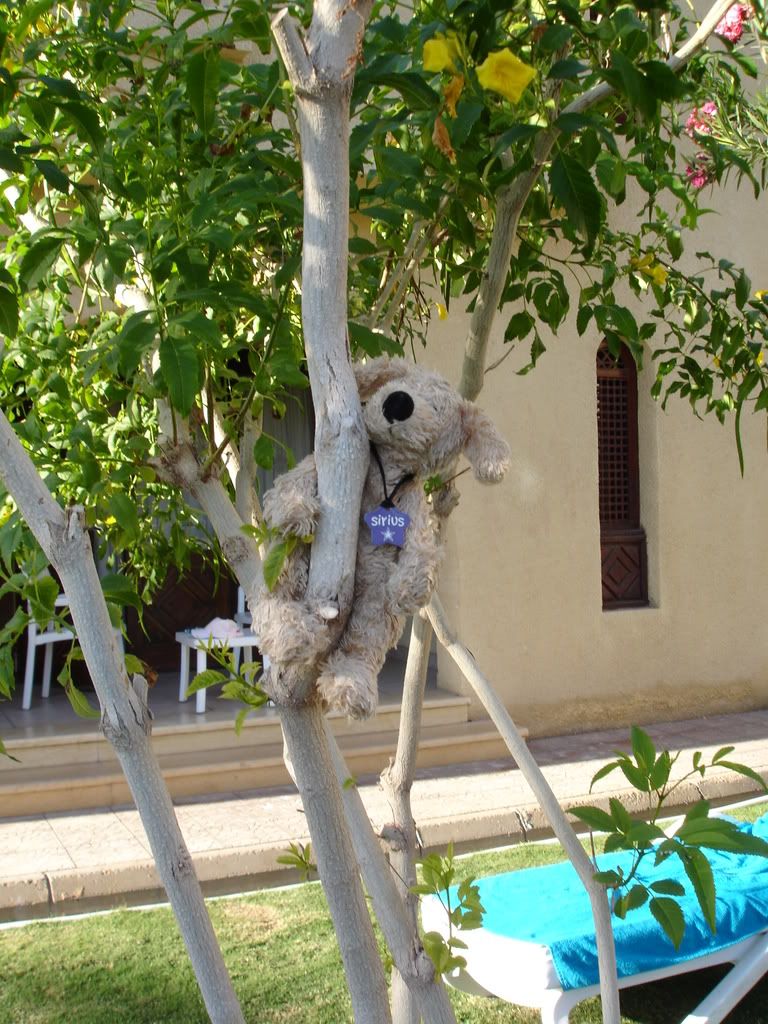 This morning our alarm clock went off very, very early at 4.30 am. We were off across to the West Bank to take a hot air balloon ride over the Valley of the Kings at sunrise. This is a picture of me being very brave just after we had taken off.
We went really, really high up in the sky. You can see some of the other hot air balloons in the sky behind me.
Our balloon ride lasted for about an hour and then we had a nice gentle landing in the desert. We had to wait for some people to come and fetch us. It looks nice and sunny but it was actually quite chilly in the early morning out in the desert.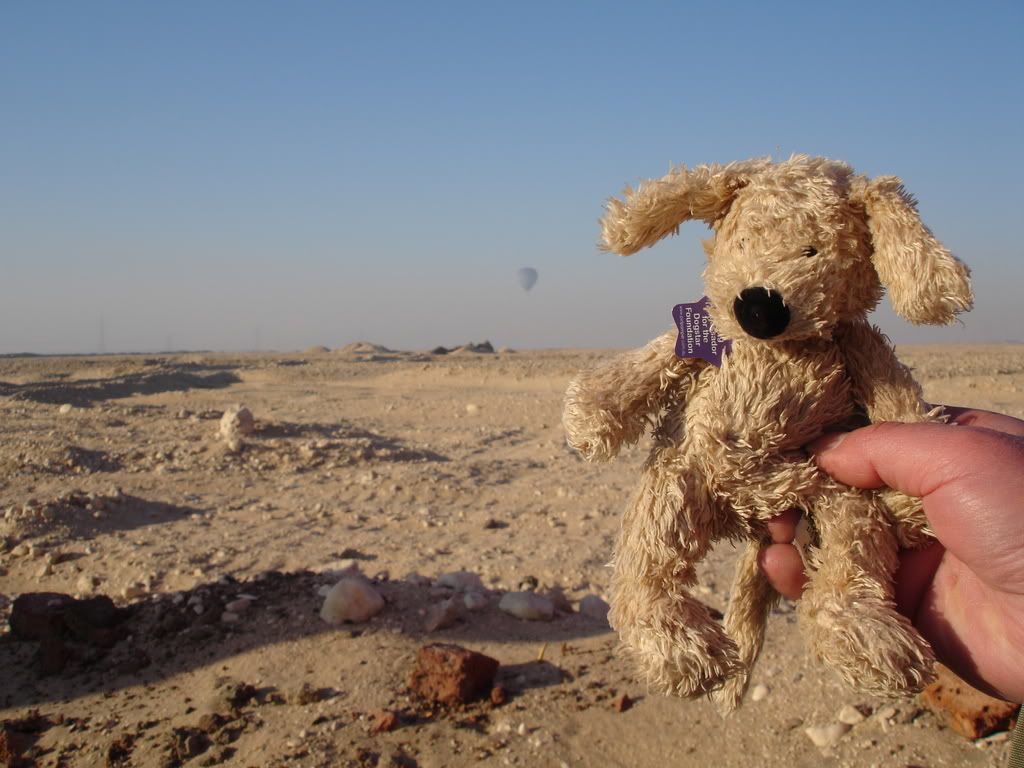 After the balloon ride I watched as lots of men got all the air out of the balloon and packed it away.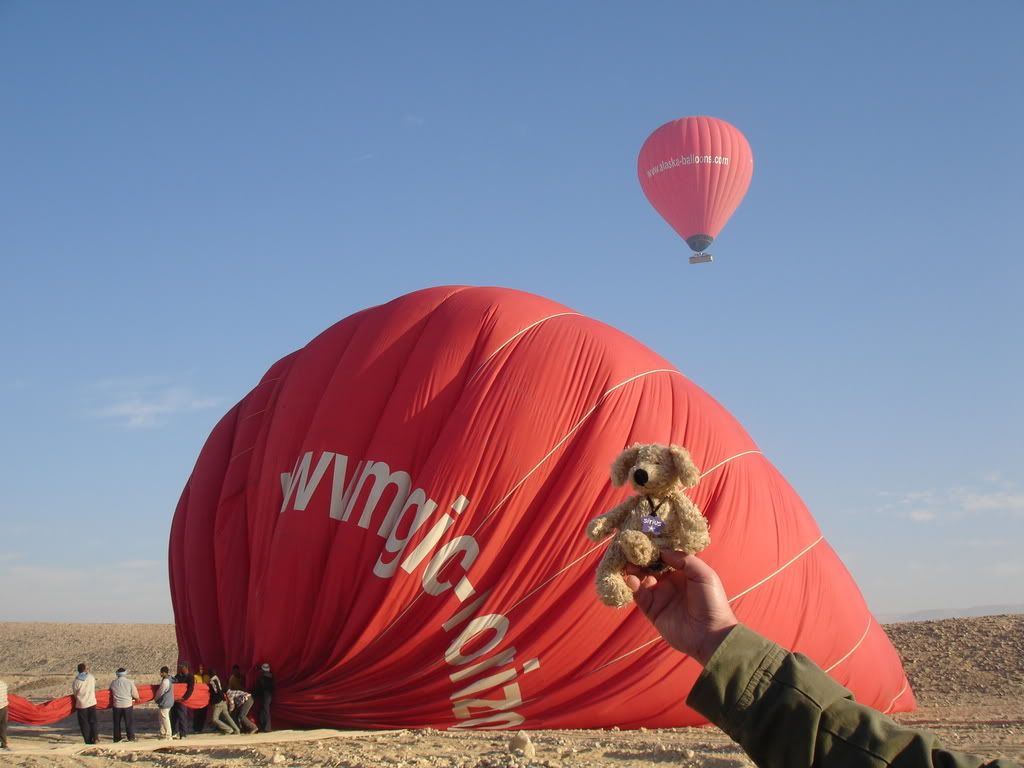 This is me with our very experienced hot air balloon pilot 'Captain Bob.'
The Egyptians smoke some funny, big pipes called shisha pipes or hubbly-bubblies. This is me trying one out in the cocktail bar. I was doing this while actually being an undercover reporter for a newspaper called The Dogstar Daily News. The cocktail bar was a good vantage point to take secret photos of unsuspecting people.
I had managed to take the photo that I needed so I rushed back into the hotel to file my story (that is what us undercover journalists call it). I can see why this is called Ancient Egypt, I couldn't find a computer anywhere so I had to type out my story on a very old typewriter that I found in the corner of the hotel bar.
I am going to be a famous journalist! This is my news report that made headlines around the world. It is probably a bit small for you to read so I will enlarge the picture for you
This is the front page of the Dogstar Daily News. My report reads as follows:Ex British Prime Minister Tony Blair and his wife Cherie visited the Sofitel Karnak Hotel in Luxor yesterday. They were there hoping to meet Sirius, the roving Ambassador for The Dogstar Foundation but they were disappointed as Sirius was far too busy meeting other adoring fans and investigating the contents of the hotel room's minibar. Tony and Cherie had lunch with some boring people instead.
Today we visited Karnak Temple. This is me in the First Court, behind me you can see a huge column and statues of Rameses II.
In the corner of the First Court are the remains of an obelisk covered in hieroglyphics.
This is another view of Karnak Temple which is so big you could spend all day there and not have time to see all of the interesting things.
Our hotel was right on the banks of the River Nile. It was very nice sitting and watching all of the boats sailing up and down the River. Behind me you can see a large traditional Egyptian sailing boat called a Felucca.
We had great fun on a night out at one of the local bars where I managed to get my paws on a bottle of Johnnie Walker Black Label.
I was enjoying myself in the bar when this huge animal came and sat next to me. It was so big I thought it must have been a horse but apparently he was a dog just like me only a very big one called a great dane. I bet he can eat a lot of sausages!
I had a lovely time in Luxor but our holiday was over far too quickly. This is me on our last morning having breakfast at the hotel with a beautiful view of the River Nile behind me.
I made a lot of new friends on my holiday. This is me saying goodbye to my very good friend Saleh (also known as Mr Lover Lover) who worked at the hotel.