As you know I am spending some time with Claire and the hounds just now so I have allowed Sian to update my blog and tell you about our adventures in the USA. I hope you enjoy it!
Our holiday started early in the morning, and once we'd checked in Sirius demanded some breakfast. Orange juice and twiglets apparently being what a globe trotting hound prefers before a flight
Once breakfast was over he settled down for a snooze in the lounge
We didn't hear a peep out of him then until we arrived in San Fransisco - where we had to chose our rental car for the drive up to Lake Tahoe
Sirius chose the red one (a duff choice as it later turned out - no 4 wheel drive meant an emergency purchase of snow chains, but that's a whole other story). Anyway, we eventually arrived in Heavenly, 24 horus after we left London and crashed out for the night.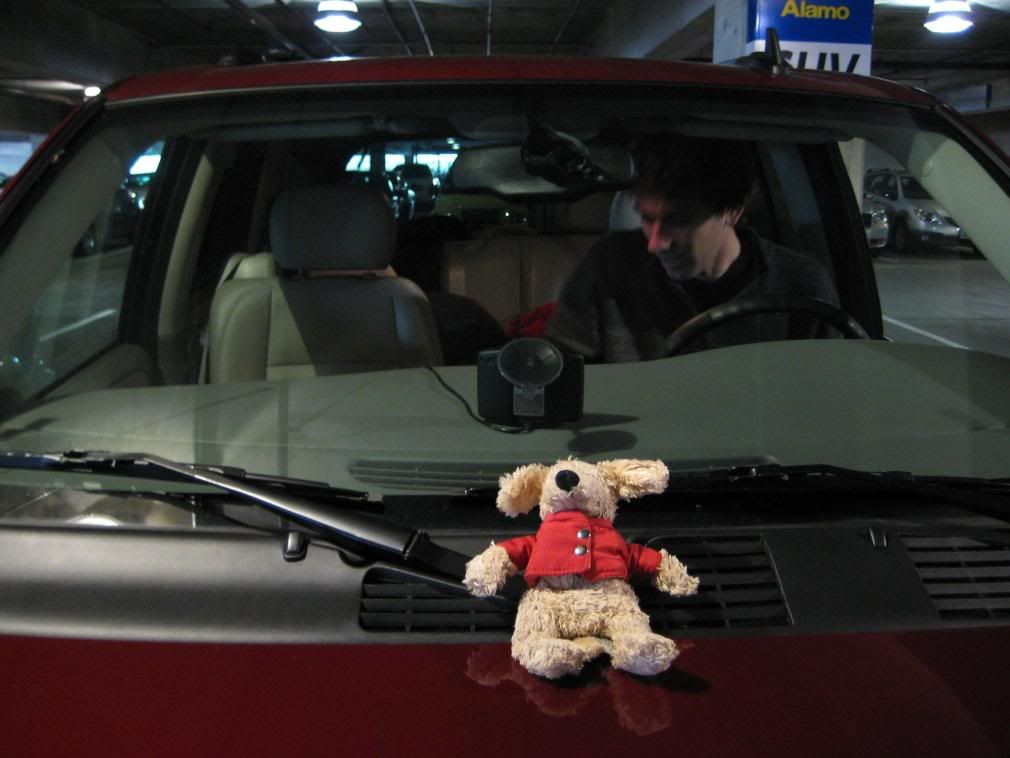 The next morning Sirius was keen to get started mingling with the locals. He hitched a ride (note his matching ski jacket)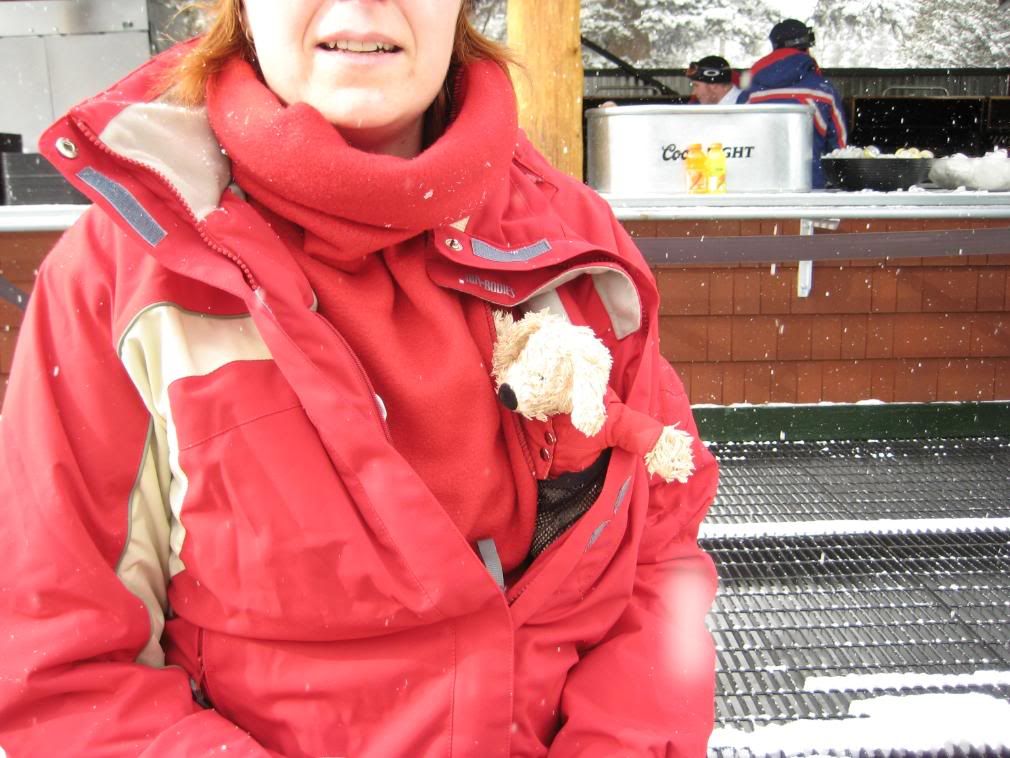 and headed for the nearest bar. He was soon getting into the swing of things.
Later he was very disappointed to discover that Milky Way Bowl (0930) was full of snow, not chocolate
but was very happy when the sun came out as we crossed the border from Nevada to California at 9000ft.
He celebrated with pizza for lunch.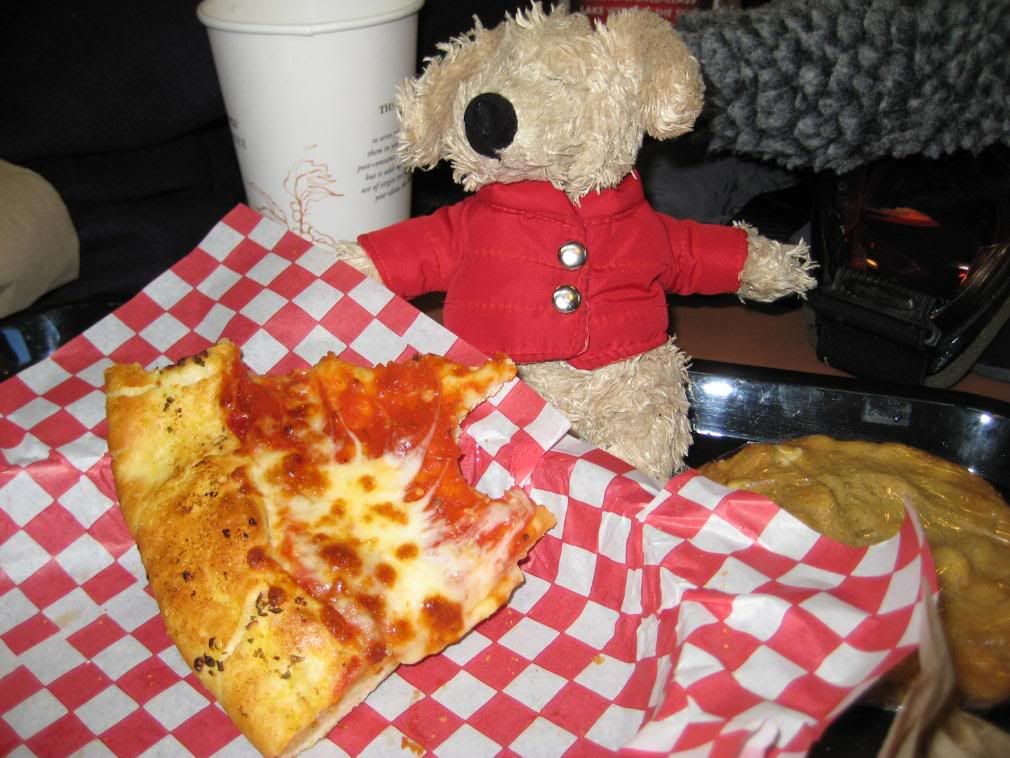 He was a bit scared on the Gondola back down to the village and would only face up the mountain with his back to the fantastic views ahead of him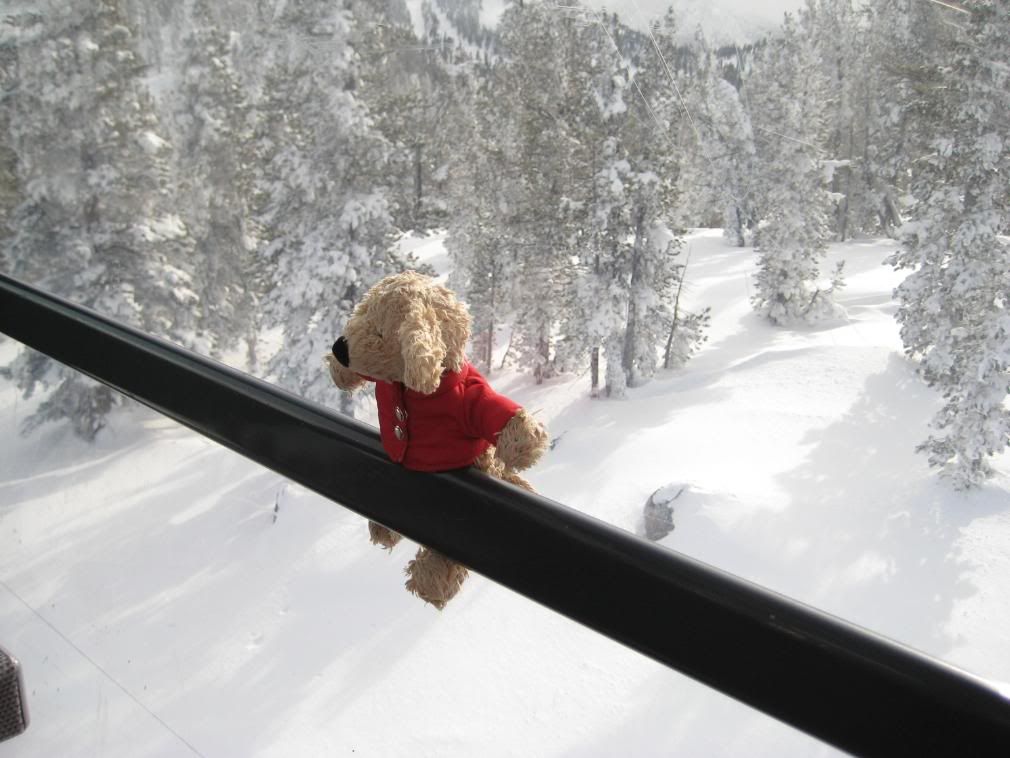 He calmed his nerves at the bottom with a frozen margarita.
He was soon feeling up to some food, and made a good selection to be cooked on the mongolian barbeque.
Not too sure about the salad though
He was feeling so good later that he thought he could do better than the chefs, and started to make a few suggestions. You can see their reactions to that!
Eventually he decides to show them how it should be done
- but ended up with a very warm bottom as a result.
Luckily there was a friendly snowman to help cool him down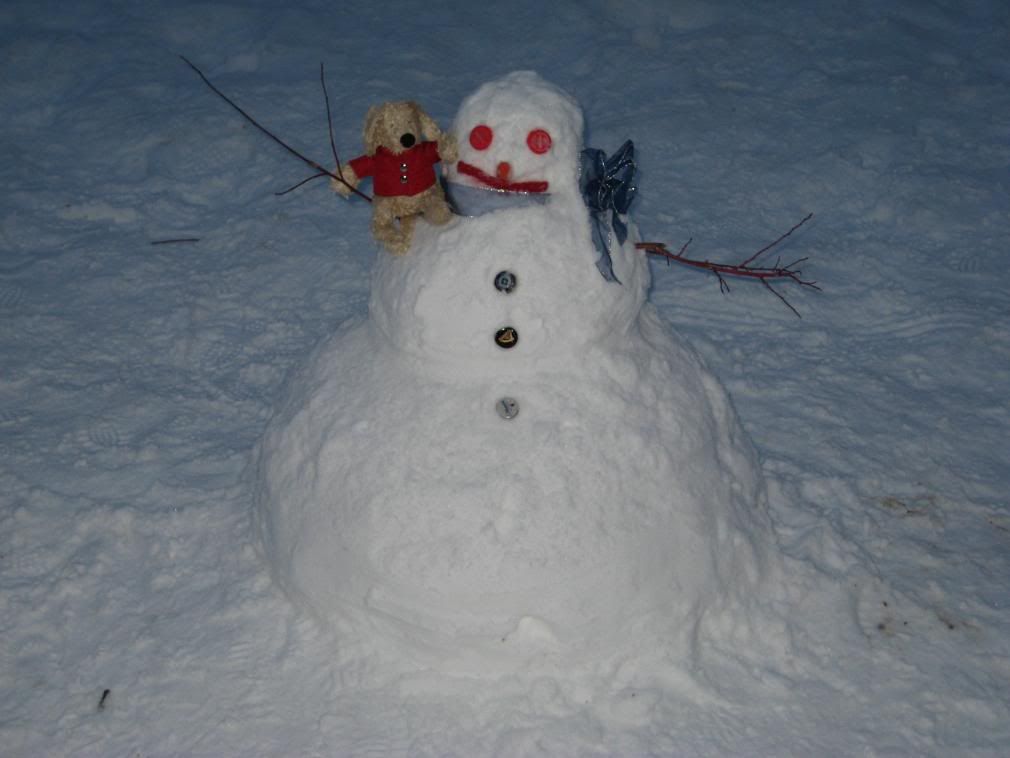 Much of the rest of the skiing holiday was too cold for Sirius to venture out of my pocket outside, but he did make some more alcohol discoveries
and by the end of the trip was brave enough to admire the view from the Gondola
A good dose of ice cream at the bottom calmed any fears he might have had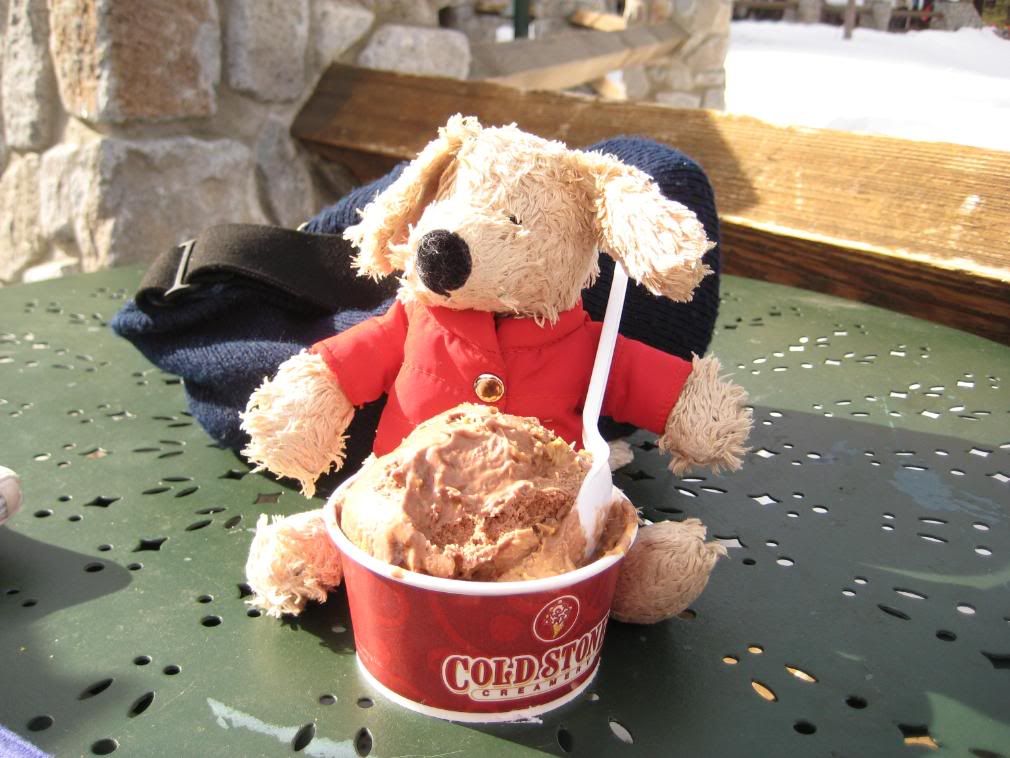 All too soon it was time to go home - Sirius giving directions via the Tomtom back to San Fran . Luckily no need for snow chain this time.
At the San Fran hotel, Sirius was quick to discover the mini bar
but luckily the lack of opposable thumbs prevented him from doing any real damage to the bar bill!
Time for the flight home, and his flying jumper.Sadly we couldn't get his passport stamped - US Immigration not being famous for its sense of humour...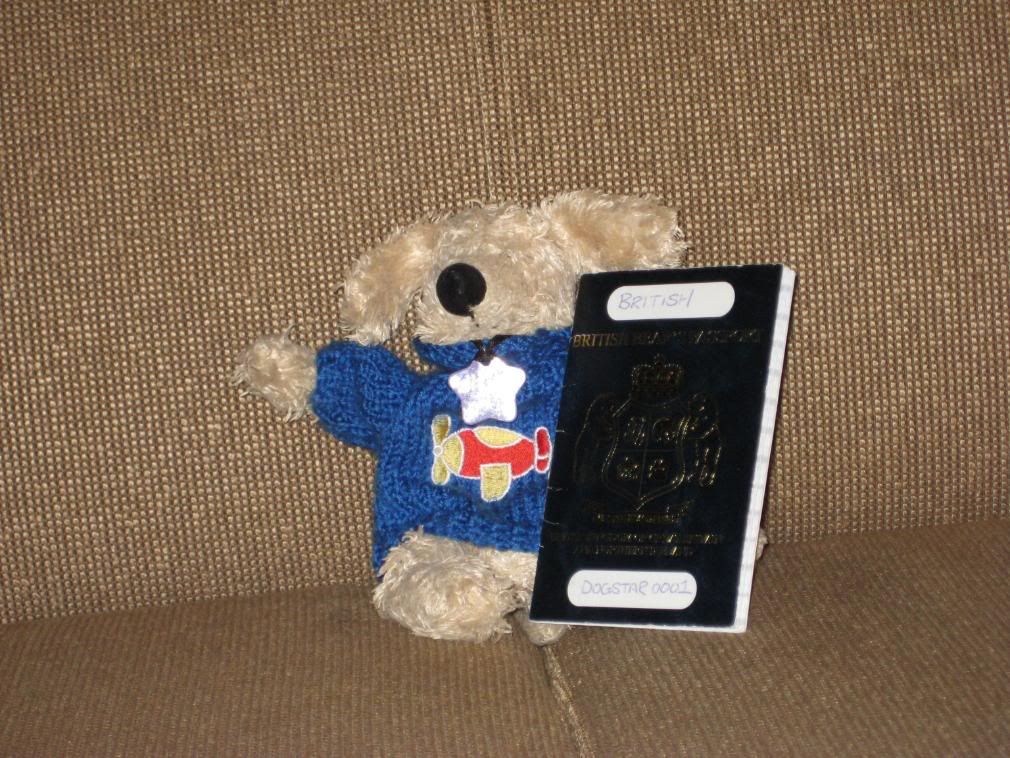 Once on the plane Sirius took a quick look out of the window to check the plane was heading in the right direction
and settled down to watch the inflight movies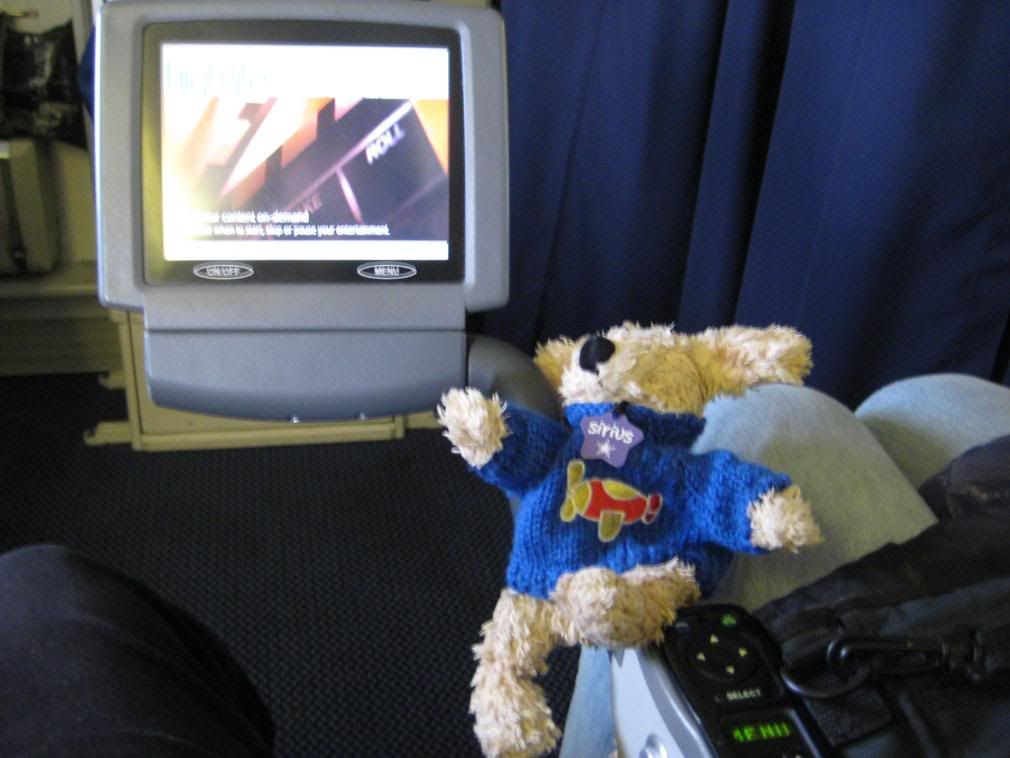 I think he enjoyed himself - he's very bossy at times !!!!